Upcoming Events For Women in Business Jan – Apr 2019

If you are a women in business and need to network, there are a number of upcoming events in 2019 which I would like to highlight particularly in the Derry/Donegal Area.
(1) Women in Enterprise Gala Dinner – Celebrating Women – Building Brighter Futures. 
Thursday 21st February 2019 –  6pm start – City Hotel Derry Londonderry
This year Women in Enterprise are especially encouraging women who work or are involved in the construction industry to come along to a  lovely relaxed evening and networking opportunity. This is for all woman in business throughout NI, Derry, Donegal, and bordering counties. If you provide services to the construction industry this is the perfect event to network with established companies, make some new contacts and meet other like minded women in business for inspiration and chats!
Sponsored by Graham Farrans JV* and Women in Business NI.
---
(2) DCSDC Enterprise Week MasterClass Series: Women in Enterprise
Tues 3rd March 2019 – 9:30am – 1:00pm – Old Fire Station, Hawkin St, Derry
9.30am – 10.30am: Shopify – Using this business model, can you really make money online without ever having to buy stock upfront, hold inventory, or even go to the post office? YES! Some call it the laptop lifestyle. Are you bored of your 9-5? In this session, Shopify Expert Laura Gallagher will show you a five- simple-step process on how to: 1) Set up your own Shopify Store, 2) How to find Products to sell, 3) How to find your customers, 4) How to fulfil your orders, and 5) How to build a brand.
Facilitator: Laura Gallagher, Shopify Expert, Beonline
10.45-11.45: Brand Brilliance – A distinctive brand identity provides a solid foundation for your business and gives you an advantage over your competitors. But with so much information available on the topic it can be confusing to figure out what steps to take to build a powerful brand. This workshop aims to simplify the process by identifying the key ingredients that businesses need to create a confident brand identity.
The workshop will be delivered by Evelyn Cagney from Pet Lamb Design. Evelyn helps business and organisations by creating a confident and consistent brand identity that gives them a competitive edge. An award-winning graphic designer, Evelyn spent years working in the design industries in Dublin, London and Sydney with big brand clients including Bord Bia, UCD, Penguin Books and BP. In the workshop, she exploits this knowledge and experience to show businesses how they can adopt the same approach as the big names in order to develop a powerful brand presence.
Facilitator: Evelyn Cagney, Owner, Pet Lamb Design
12.00-13.00: Five Strategies To Get Traffic To Your Website 
'I get nothing from my website' is a common phrase from entrepreneurs. If this is how you feel, then this talk is for you! The good news is that it is absolutely possible to turn your website around from being a useless tool to bringing in new customers. You will be provided with a simple five- step framework to get more traffic to your website, and turn it into paying customers.
Facilitator: Patricia Greene, Founder, The Web Club; Manager, Nolka Web & Digital Marketing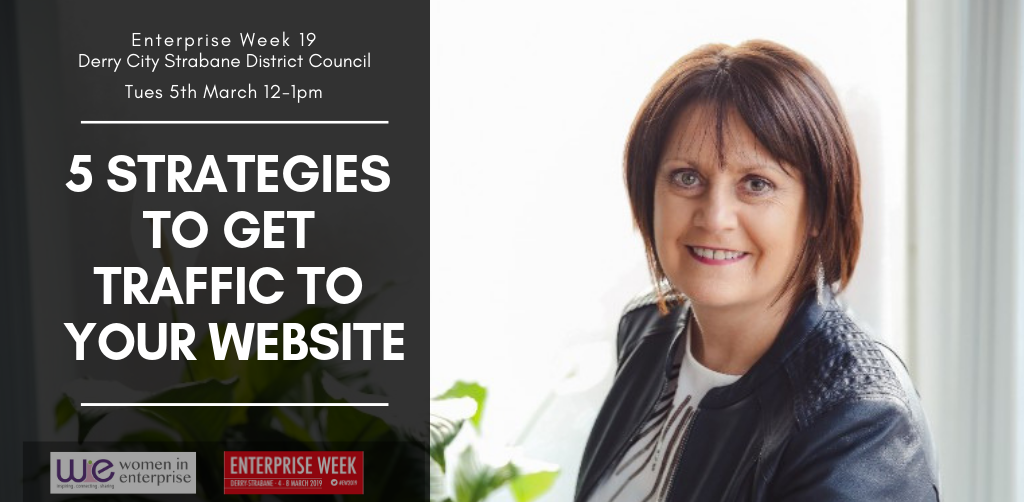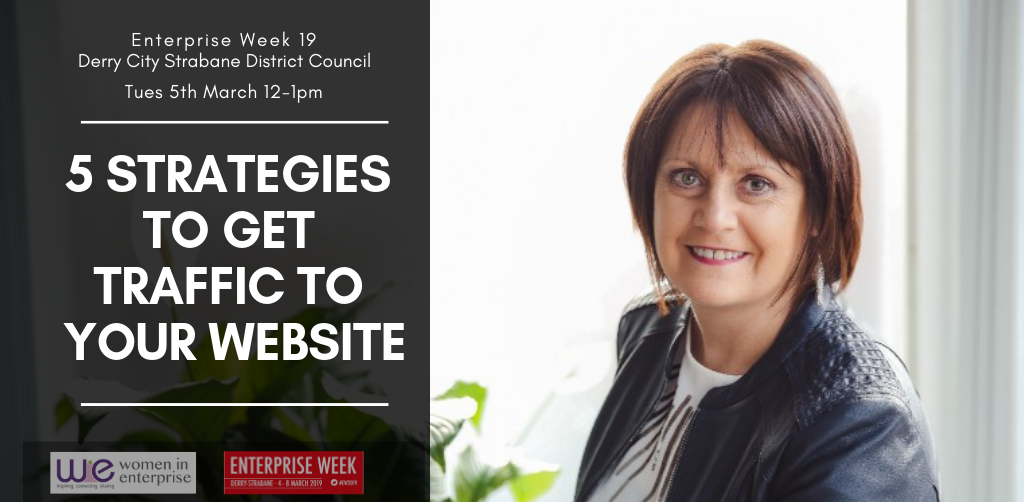 Fri 8th March 2019 – 9:30am – 1:00pm – Old Fire Station, Hawkin St, Derry
9.30am – 11.00am: – Women on Board
Corporate boards perform better when they include the best people who come from a range of perspectives and backgrounds. The boardroom is where strategic decisions are made, governance applied and risk overseen. It is therefore imperative that boards are made up of competent high calibre individuals who together offer a mix of skills, experiences and backgrounds. Board appointments must always be made on merit, with the best qualified person getting the job. But, given the long record of women achieving the highest qualifications and leadership positions in many walks of life, there continues to be poor representation of women on boards, relative to their male counterparts.
This session will aim to encourage more women to become board members and identify the necessary skills, experience attributes to become a successful board member.
Facilitator: Nuala Griffiths, Development Officer, Strategic Investment Board and Board Member of WOMEN'S TEC
Light refreshments on arrival.
---
(3) Women's Inspire Network Conference – Harvey's Point Hotel, Donegal 
9am – 5pm: Overcoming Challenges as an Entrepreneur
Run by The Tweeting Goddess Samantha Kelly who is founder of the Women's Inspire Network this event will celebrate entrepreneurs overcoming challenges, and the speakers include
Moira Ní Ghallachóir – How to Enrol More clients, And Make Way More Money – Even if You Hate Sales @mngDonegal
Lea Woodford – Personal Branding and Influence @LeaWoodford
Anne Tuohy – Believe in yourself, and ditch the self-doubt for good @RoomJunkieAnne
Moira Dunne (BA MOD, M.SC, PMP) – How to Take Control of Your Time & Get More Done @beproductive_ie
Louise McDonnell – Tap into the power of Facebook and Instagram Ads to build brand awareness and drive sales @Louisemcdsocial
Mags Boland Murphy- Valuing your time – How to get the right price for your business service. @BofinConsultant
Sharon Thompson – How to get your book published @sharontwriter
Lorraine Boyce – The Big Taboo… Let's Talk About That!@BoycePhysio
Patricia Greene (ME!) – Get More Leads and Profit from your Website @WebClubGuru
Dermot Devlin – How social media helped me overcome challenges and highlight issues @mywayaccess
Michelle McLoughlin – Getting comfortable with accountability – a different perspective @MichelleMcLoug5
Zack Gallagher – The use of Social Media to your Food & Tourism Business @IrishFoodGuide
Wayne Denner – How to overcome the challenge of creating daily content on Instagram @waynedenner
(PS: use my special discount code patricia for a great discount until end of Feb only!)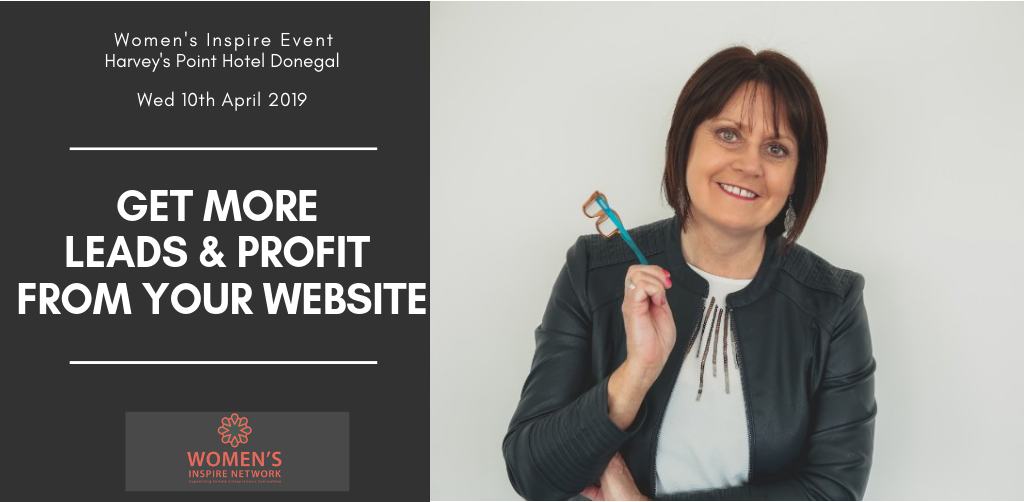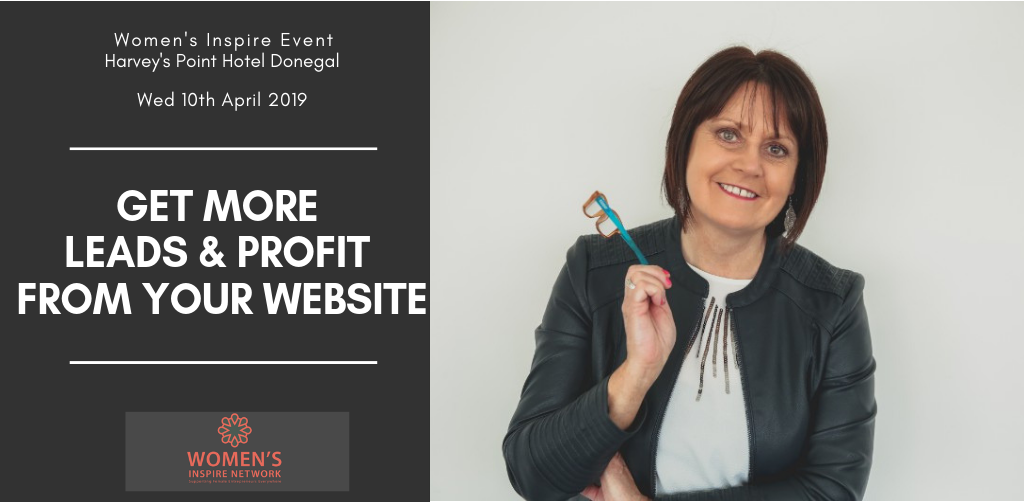 ---
*Graham Farrans JV are the main contractors working on the A6 Dualling project. Delivered by the Department for Infrastructure, the project will upgrade 14.7 kilometers of the A6 North Western Transport Corridor between Randalstown and Castledawson, a route used by 18,000 vehicles each day, once completed, will bring great social and economic benefit to the local area, most notably reduced journey times and improved road safety
https://www.thewebclub.ie/wp-content/uploads/2018/06/bigstock-People-Audience-Diversity-Grou-117353597-e1589893042779.jpg
767
1048
Patricia Greene
http://www.thewebclub.ie/wp-content/uploads/2016/06/web-logo-1.png
Patricia Greene
2019-02-05 11:09:45
2019-02-05 13:46:17
Upcoming Events For Women in Business Jan – Apr 2019