Planning Your Website for Success Workshops Nov 19 Derry
WEBSITE PLANNING FOR SUCCESS WORKSHOP 
Derry
Thu 28th Nov 2019
9:00 am – 12:30 pm
Best Western White Horse Hotel Derry
Registration £47.00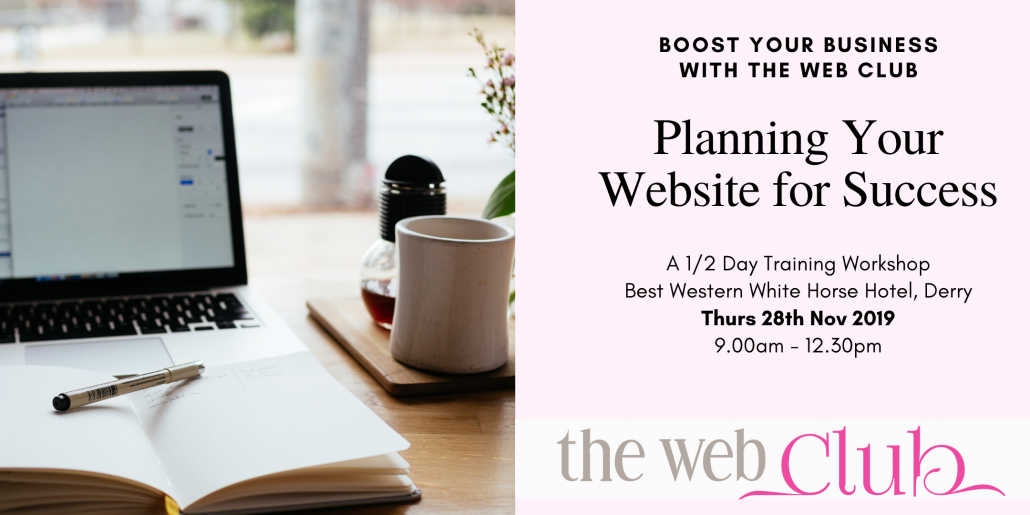 Learn how to get more traffic, more web enquiries,and more customers from your website in this 1/2 day workshop.
About this Workshop
This 1/2 day workshop for women in business, will take you from 'confused' to knowing exactly what to do to make your website a success.
Why You Should Attend this Workshop?
Have you ever felt that you want to get more enquiries from your website but don't know how to
Are you feeling a little disappointed having spent a lot of money and/or time getting it all together but it doesn't really bring you new business?
Are you unclear about how to move forward with it and so avoid even looking at it!
Do you need a new website, but are holding yourself back as you are not sure how to approach it all?
If you've answered YES to any of the questions above, then this is the reason you should attend the workshop. Let's get you moving from stuck to dynamic as far as your website is concerned.
What You Will Learn:
The key factors that will make your website successful
The essential steps you need to take to ensure your website brings new traffic, new leads and new customers.
How to get ranked on Google, what they are looking for in a website
Your customer journey
How to convert website visitors into customers
What You Will Leave With:
Using a Workbook provided during the sessions, you will leave with a Plan of Action!
A clear understanding of what works to get success online
What to implement to achieve success through your website
Understanding how to track and measure your success.
Who is the event for?
This event is for female entrepreneurs, business women providing a service or design led business and anyone who needs to market the business they own or work in.
It's ideal for any of the following or similar business types:
Professional Services
Business Consultants
Life or Personal Development Coaches
Health & Wellness Professionals
Design & Craft Makers
Interior Designers
Branding or Creative Media Professionals
Virtual Assistants
---
About your facilitator Patricia Greene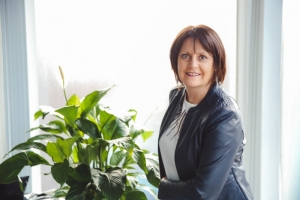 Patricia Greene has 20 years experience in web design and is a professional digital marketer.
Patricia founded The Web Club to support women in business to grow their business via digital marketing strategies and techniques. She is passionate about supporting women and is an active advocate and supporter of women in business networks throughout Ireland.
What others say about Patricia's work:
Emily Whelan Coaching | Donegal
"In 3 short months Patricia Greene has helped me to set up a simple but effective marketing strategy that works for me and my business. She has also done tremendous work on my website, and created a beautiful sales page and fantastic Opt In! I was feeling so stuck, and with Patricia's help I was able to move forward again. I have also learned so much through this whole experience, and have already had 3 sold out events! She really listened and understood my vision which was so important. I will look forward to working with her in the near future!"
Evelyn Cagney, Brand Identity Designer | Graphic Designer | Pet Lamb Design
"I attended Patricia's website workshop which was packed full of invaluable SEO information. Patricia explained each strategy succinctly, answered questions throughout, and took the time to make sure that everyone was clear on each point. I was able to implement the strategies immediately and have been really impressed with the results!"
Patricia Kelpie | Managing Director PGG Marketing | Co-Chair Women in Enterprise
"Patricia Greene is an exceptional and extraordinary professional web and online expert. Working together on Women In Enterprise is a sheer pleasure – as is attending her training sessions. I've been to several of Patricia's workshops and seminars and highly recommend them to anyone looking to increase the performance of their website and online presence. Her delivery is clear, easy to understand, comprehensive and practical. She is highly skilled and up to date in the constantly evolving world of online marketing, as well as a wealth of knowledge and solutions when it comes to website design & management, analytics and social media. Her genuine approach is endearing. I highly recommend Patricia Greene as a leader, teacher, and web/online guru."
Feedback from Previous Workshop Attendee's
"Patricia's delivery is clear and methodical and very helpful for both novice's and veteran's alike to maximise your website effectiveness."
~~
"Found Patricia very knowledgeable, knows her stuff! Kept to task, workbook was brilliant! The whole workshop from booking, to content, to materials, to speaker was very professional. Thank you! "
~~
Wonderful Day. Beautiful atmosphere. Great 'workbook' to take away. Really appreciated it being local and found facilitation kind, enjoyable and informative."
---
WEBSITE PLANNING FOR SUCCESS WORKSHOP 
---
Derry
Thu 28th Nov 2019
9:00 am – 12:30 pm
Best Western White Horse Hotel Derry
Registration £47.00
http://www.thewebclub.ie/wp-content/uploads/2019/09/Copy-of-Website-Planning-workshop-e1589892852762.png
500
1000
Patricia Greene
http://www.thewebclub.ie/wp-content/uploads/2016/06/web-logo-1.png
Patricia Greene
2019-09-02 22:43:53
2020-01-14 16:34:02
Planning Your Website for Success Workshops Nov 19 Derry