Women's Inspire Event – Win 19 Donegal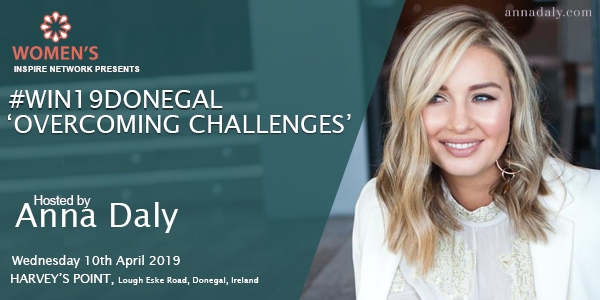 ---
I am delighted to be a sponsor and speaker in the upcoming Women's Inspire Network spring event at Harveys Point in Donegal Town on Wed 10th April!
I will be speaking about how to get more leads, sales and enquiries and ultimately more profit from your website. There is a fab line up of inspirational speakers who will be sharing their experience, their knowledge and insights with over 100 women who are there to learn & network.
The theme is 'Overcoming Challenges' as an Entrepreneur.
If you would like to go ahead and book the event TODAY (as places are limited) use my discount code patricia for €20 off the cost!! BOOK HERE
So who is in the line up?
Meet Ireland's answer to Holly Willoughby, Anna Daly who will be our MC and speaking about life in television at the event.
 Anna Daly (MC) – Anna Daly on Life In Television
Anna studied International marketing and graduated from the Marketing Institute of Ireland (MII). Did you know her previous role was the Marketing Manager for the TV3 Television Network prior to her on-screen career? Anna will speaking about the following at the event:
–
 Making the decision to change your career path and not looking back!
– Live TV: the best training ground for any TV presenter.
– The career highs and the people that impressed her the most.
– The disappointments
– The surreal moments
– The tough days
– Who's best suited to a career in telly?
– What the producers want to see when you pitch an idea.
– Anna's latest project, her own lifestyle website annadaly.comand why it's important for her to develop other projects.
Samantha Kelly – Founder, Women's Inspire Network
Samantha will share her story of how she went from social welfare to social media influencer and how she created an engaged global online community through a bit of #Twittermagic. 
She will also talk about recovery and the challenges she has had to become a global social media influencer, international speaker and connector
Aoife Keady – Connecting Communities
Aoife Keady has shown entrepreneurial traits from a young age but didn't get to fully act on them until she was 19 when she leased a café. She loves a challenge so in her final year in NUIG she went on to lease that same café along with the pub and B&B attached.
She often says if she got a Euro for every time someone said 'I would've gone if I'd known it was on' about an event in her community she'd be a millionaire. That's how her recent venture 'What's Where' was born.
Moira Ní Ghallachóir –  How to Enrol More clients, And Make Way More Money – Even if You Hate Sales
Moira first built a travel business that served 1000 travellers from all over the world and then built her coaching business from debt to half a million Euros in annual revenue in less than three years. (All from her home office!). Attendees will be able to stop seeing sales as they something they have to do to people and see it as something they can do to inspire people.
Marian McKenna – La Creme Boutique Styling Masterclass 
Top Stylist and Businesswoman Marian McKenna of La Creme Boutique will give a Styling Masterclass. Marian is a renowned natural talent for dressing people with varying body shapes. No matter what your size or shape she can make any woman feel beautiful with her styling expertise. She will have a range of styles from La Creme with her on the day so you can pick up something beautiful on the day.
Anne Tuohy – Believe in yourself, and ditch the self-doubt for good.
Awarding winning Interior Designer Anne Tuohy absolutely believes in the positive benefits of living in a home that is professionally designed, which is as functional as it is beautiful. She works personally and passionately with her clients to ensure that together, they achieve their perfect home. Anne's mantra is "perfect homes not perfect houses". Every design project is a unique collaboration, she gets to know you deeply, and delivers the home or workplace that is right for you, and unique to you. An amazing personal journey of function and design.
Anne's other passion is teaching, and she travels countrywide, bringing her hugely popular Sharing the Secrets Masterclass to homeowners everywhere. This is where she inspires great design and shares her personal design secrets so that her students can consistently create the perfect home for themselves. With her guidance, every home will be transformed, and every life improved.
Moira Dunne (BA MOD, M.SC, PMP) – How to Take Control of Your Time & Get More Done
In today's hectic world being productive is about making good decisions, managing your attention and using technology smartly.
Boost your Productivity with this motivational talk from Productivity Consultant Moira Dunne. Learn how to:
Make a plan to achieve your GOALS
GET the day-to-day STUFF DONE too!
Expect CHANGE and DEAL with it
Stay FOCUSED and CALM
Louise McDonnell – Tap into the power of Facebook and Instagram Ads to build brand awareness and drive sales.
The Facebook Ads Platform is possibly the most powerful tool available to brands today.  Businesses can target customers and potential customers using demographics, psychographics and through the way they interact with them online.  Even businesses with a limited budget can use sophisticated remarketing techniques to drive sales.  But must businesses are only scraping the surface…..
Mags Boland Murphy- Valuing your time – How to get the right price for your business service.
Price for Profit – Be confident about your value. Mags Boland Murphy is the director and owner at Bofin Consultancy. Mags works with business owners and managers in Ireland, the UK and Sweden who are focused and committed to success. She works with businesses who may be struggling with marketing, and panicking about profit and works to help them plan smart, package effectively and promote simply so that they connect with more of their ideal clients and sustain consistent cashflow. Mags has a record of success with award winning clients who continue to succeed. Mags believes in saying it straight, supporting business, meeting challenges professionally and personally head on and finding ways to overcome, be innovative, achieve, succeed and exceed everyday. "Profit is not something to add on at the end, it something to plan for in the beginning."
Sharon Thompson – How to get your book published
Author of number one bestseller, The Abandoned, Sharon Thompson is the founder of the successful Indulgeinwriting.com. A guide and mentor, Sharon has seen members of this indulgeinwriting.com group progress to agent representation and publication, and organises regular talks from industry professionals and experts for those members.
Sharon co-founded #Writerswise a trending Tweet-chat featuring published authors and guest-hosts.
Lorraine Boyce – The Big Taboo… Let's Talk About That!
My focus, through my clinic and online presence, has been breaking down the barriers of talking about pelvic health issues online, all the things that so many women have issues with but that we never talk about like painful sex, leaking bladders, chronic constipation, and getting women more comfortable with their pelvic health and improving awareness of what treatment services are available.
Patricia Greene – Get More Leads and Profit from your Website
'It's possible to turn your website around from being a total disaster to bringing in new leads and new customers!' Having worked in the web design business for almost 20 years, being chair of Northern Ireland's business women's network Women in Enterprise for almost 4 years, and as a digital marketing mentor across several business programmes, Patricia Greene of Nolka Web & Digital Marketing has a very clear understanding of the struggles which female entrepreneurs face daily. She has created 'The Web Club' to provide advice, support and encouragement for women struggling to get enquiries, sales or leads from their website and her work with them has proven to bring a transformation in their business.
Dermot Devlin – How social media helped me overcome challenges and highlight issues
Dermot Devlin is a social media project officer for Omagh Enterprise. Dermot runs My Way Access, a website that provides a voice for people with disabilities in Ireland on accessibility and social issues. He has ran many lobbying campaigns via his website, including getting access for a drug for people with the same rare disability as him in Ireland and UK.He contributes is work to the power of social media, as not only does it provide him with a voice to run the many campaigns, but can also be a tool for many people with disabilities to feel less isolated. It has doors many doors for him, such as being a speaker at TEDx, International Rare Disease Day and a contributor to BBC Radio 4's Listening Project. His interview is now archived in the British Library as an historical time piece.
Michelle McLoughlin – Getting comfortable with accountability – a different perspective
Michelle McLoughlin is a businessperson, adventurer and a business solicitor, trade mark agent and tax consultant who takes care of the legal matters while you run your business.  Most recently Michelle has launched Business SOS to keep you on track to achieve your goals.
@MichelleMcLoug5
Zack Gallagher – The use of Social Media to your Food & Tourism Business
Zack will discuss the challenges faced by small businesses in getting Google and other search engines to find and return your product in search returns, through the use of social media and better imaging information on your website. Zack runs a food tourism marketing company called Irish Food Tours Ltd. and his Irish Food Guide Blog shares information on all aspects of food, food producers and food tourism, on the island of Ireland to over 2 million readers. 
---
BOOK HERE using my discount code patricia for €20 off the cost!

Hope to see you there!
---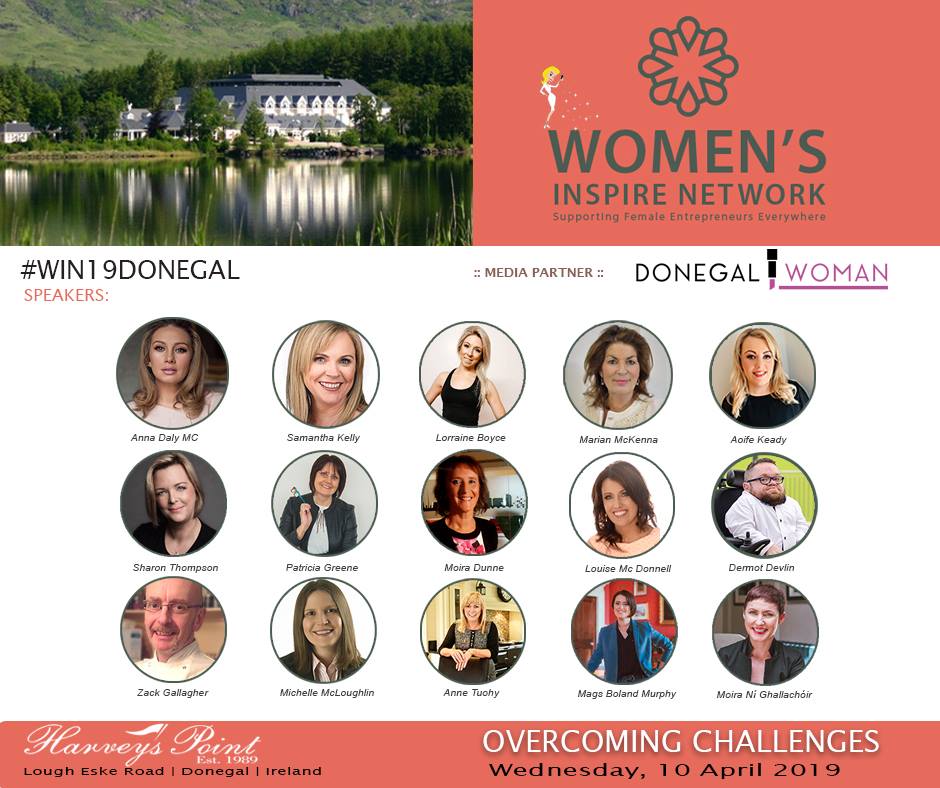 http://www.thewebclub.ie/wp-content/uploads/2019/04/wineventbriteannadalywhiteinpage2.jpg
300
600
Patricia Greene
http://www.thewebclub.ie/wp-content/uploads/2016/06/web-logo-1.png
Patricia Greene
2019-04-01 13:24:06
2020-01-14 16:37:12
Women's Inspire Event – Win 19 Donegal